2019 Chevrolet Silverado 1500
On the heels of the recently revamped 2018 Ford F-150 comes theall-new 2019 Chevrolet Silverado 1500. Wearing buff new bodywork and sitting on a completely redesigned frame, the latest Silverado promises to be lighter and more capable than its predecessor.
Unlike the F-150, which uses aluminum bodywork to trim pounds, the 2019 Silverado 1500 cuts weight by way of mixed materials. Chevrolet specifically noted that the new truck uses higher-strength steel in its bed as a means of shedding mass.
As with the current Silverado 1500, the 2019 model will be offered in several trims. Buyers will also have a handful of powertrain options to choose from. While Chevrolet is keeping its lips sealed on specific powertrain details until the truck's public reveal at the Detroit auto show in January, we expect a small-block V-8 to remain a staple of the Silverado 1500 lineup, although at least one downsized, turbocharged offering will likely be added to assuage the fuel-economy gods.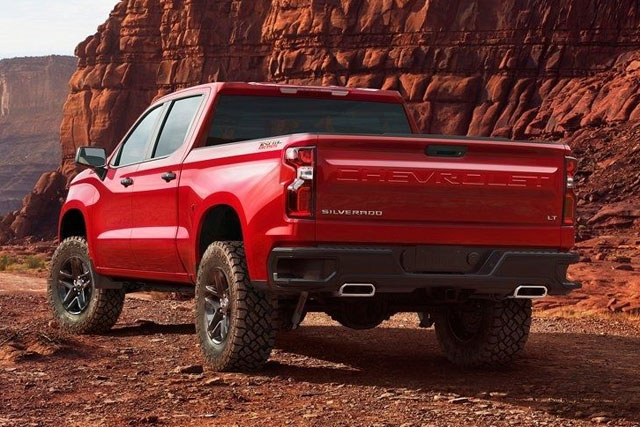 Nevertheless, the bow-tie brand was happy to share preliminary details about the Silverado 1500 LT Trailboss. Seemingly targeted at the Ram 1500 Rebel, this new Trailboss variant—Chevy said this is one of eight trims on offer for the 2019 Silverado pickup—takes the equipment found in the Z71 off-road package and turns things up a notch by lifting the truck an additional two inches.
With its knobby tires and angry-looking maw, the aggressive 2019 Silverado 1500 LT Trailboss gives us our first glimpse of the bodywork that will define the brand's bread-and-butter truck, which now incorporates flowing lines over its wheel arches and body sides, sports a set of thin and aggressive headlights, and wears attractive scalloped taillamps. While beauty is in the eye of the beholder, the 2019 Chevrolet Silverado 1500's bodywork is far more distinctive than its boxy forebear's.
Look for more information about the 2019 Chevrolet Silverado 1500 to be added to this space after the model's public unveiling at the Detroit auto show.