Have you been interested in purchasing Chevrolet Blazer RS? If the answer to this question is affirmative, there are several things that you need to know first.
Originated from the Chevrolet brand in 1969, it came forward as an SUV, which later grew to become a midsize crossover gained popularity in a short amount of time.
Unlike other midsize SUVs, the 2020 Chevrolet Blazer RS model has many eyes on it. And that gives rise to another question, is it worth the hype? It cannot be ignored that the new 2022 model has several original specifications and features worth mentioning.
Moreover, apart from the interior, the exterior is also well-put, which makes is aesthetically excellent and appealing.
However, the new features do add to its price, which is a lot more than midsize Chevrolet SUVs. The elements may be like nothing is ever done before, but if they are not user-friendly and are only creating confusion, it is undoubtedly a discouraging factor.
Here are the pros and cons that will help you decide whether to spend your savings on 2020 Chevrolet Blazer RS is the wise decision.
Pros
Several Trim Options
Car enthusiasts know how expensive upgrading their car can be. The best thing about Chevrolet Blazer RS is that it comes with three different trim and sub-trims models that help drivers upgrade it to whatever extent they want.
Whether you want to experience full-extent safety content or want your engine to work for all-wheel-drive (AWD), the ease of switching will be very comfortable in this car.
Improved Navigation and Controls
Most of the people do not prefer digital operations since it is confusing. However, when it comes to Chevrolet Blazer RS, the infotainment system is specifically designed to cater to user needs.
A full eight-inch touchscreen is made by User Interface design professionals so that the whole system is easy to comprehend and use.
Smoother Drive
Handler SUVs are not an easy task, so drivers always take their time to get the hang of it. However, when it comes to Chevrolet Blazer RS, smooth handling on curves and slopes is not a problem as it is designed to provide massive breaking compatibility. The steering is accurate and ergonomically fit to avoid fatigue and stress.
Connectivity Options
The connectivity options of Chevrolet Blazer RS are also more than the last versions. It provides ports and spaces so that features like Bluetooth, Apple Play, Android Auto, and WIFI can be operated in the easiest way possible. The system can be upgraded to install more advanced features such as a more extensive touchscreen, more massive speakers, etc.
Heavy-duty V6 Engine
With 308 horsepower and 270 pound-feet of torque combined, this is the only SUV that can reach 60 miles per hour in under 7 seconds. Pretty cool, right? This muscle car comes with a powerful engine in which the trims are optional and can be easily replaced or monitored.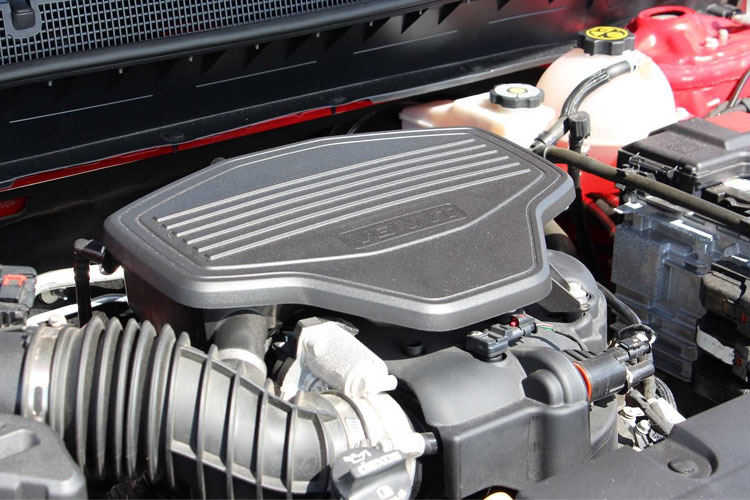 The engine is manufactured with ideal materials to avoid heating up and ensure minimum exhaust waste.
Sharp Aesthetics
Most of us are into good aesthetics, which is why Chevrolet Blazer RS will impress us. The charming looks with sleek urban design have durable looks that are evident in every picture.
The car has its own identity, which is something most SUV lack. The floating roof element has impressed many along with the black grille and bulging hood.
Cons
Cheap Interior Manufacturing Parts
While the outside of the car remains energetic and urban, the interior of the car has raised several questions among the critics.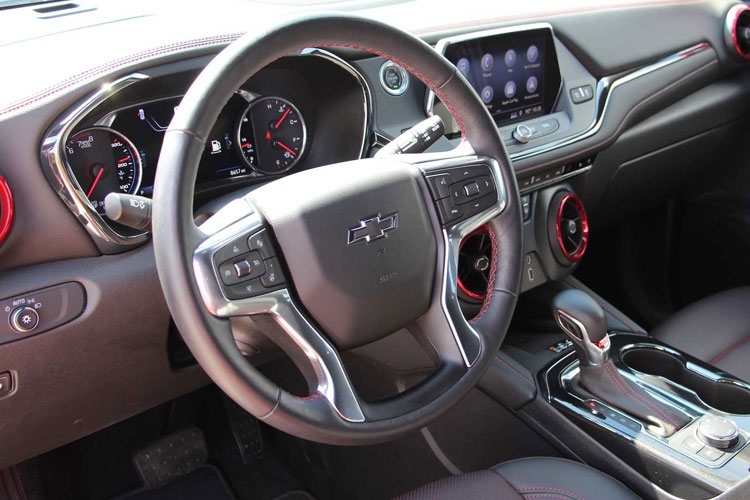 Apart from the thick leather used in the seat covers, the hard plastics seem tacky. There is a little too much use of the hard-flimsy plastic that shows little attention has been paid while selecting materials for the interior components.
Limited Room At the Back
Since Chevrolet Blazer RS is inspired by Camaro, which we all know is not known for the interior space it had, this model is also compromising the rear headroom.
The headroom for the driver and the passenger is good enough, but the rear headroom's dimensions seem a little off standard our user-centered design.
Average Safety Options for Lower Trims
If you think you will get maximum features in the lower-end blazer, you are mistaken. There are limitations to the lower trims, which raises concerns for drivers who are driving at it. Specifications like Advance View Camera are designed for high-end blazer trims only.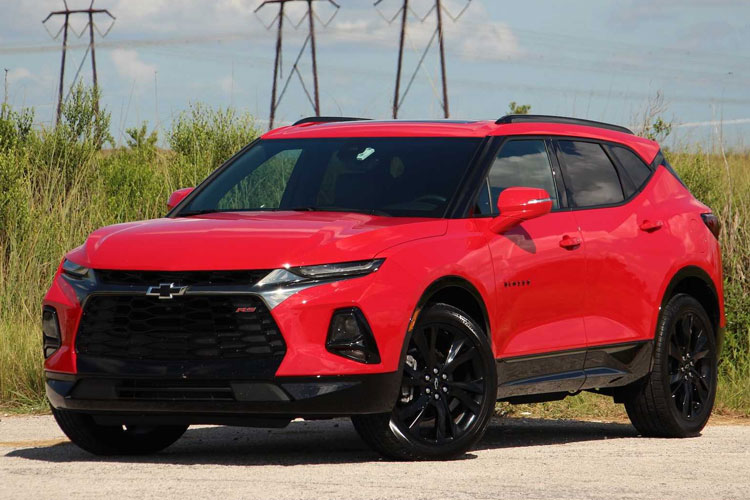 Skyrocketing Price
Another major con of Chevrolet Blazer RS is that it is pretty expensive. Many people are hesitant to spend their lifelong savings on this car since they can find quite similar features in other vehicles. Specifications like rear camera mirror, sunroof, diver package for front-wheel-drive, etc. are super costly.
Chevrolet Blazer RS is a decent car, with pretty advanced tools like a full interior cabin, powerful engine, robust powertrain, excellent fuel mileage, multiple safety options, etc.
These features do support each other to highlight how the car has made with high precision. Chevrolet Blazer RS has undoubtedly made its mark among several domestic crossover SUVs, and there are several reasons why.
However, due to extensive features, some compromises have been made. Multiple advanced tools result in a high cost, which is a significant discouraging aspect.
It is always a good idea to take the car out for a drive before you buy it. This will help you understand the car better and know how compatible it is.
Conclusion
Before you buy any car, note down the purpose behind it and how much you will be using it. If you want a family car since you will travel on motorways, the car that you purchase will be different than the one which is majorly used for grocery purposes. Knowing the specifications, you cannot compromise on what is also significant for buying a car.