Ford revolutionized mobility more than a hundred years ago. And for now, the company has broken the internal combustion engine and has introduced the very first expression of the Mustang lineup. For now, the car offers a ride along with a wave of transformation to electrification from ICE.
The 2021 Ford Mustang Mach-E offers a very comfortable, luxurious, and silent ride for being a combination of past and future. The design of the Ford Mustang Mach-E is inspired by the automaker's pony car, which is now powered by electricity.
With the help of two different battery sizes, the car offers an incredible mileage of about 305 miles. The five-passenger cabin is fitted along with contemporary features and comes along with advanced infotainment options. Therefore, the car offers you unique cargo and storage solutions.
The company has introduced this model with a unique name and stylish design and expects to sell multiple copies this year.
Are you interested to learn a bit more about the features and specifications of the Ford Mustang Mach-E? Continue your reading and find everything about this car!
Mustang Mach-E Interior
Mustang Mach-E provides a keyless entry and ignition, so the driver can use an application to use their phones just like a key.
An LCD screen offers a gauge cluster fr the driver along with a 15.5 central touchscreen fr entertainment and navigation. This entertainment screen can also be used as Android Auto or CarPlay and make vehicle adjustments. You can do all the navigation through remote monitoring through the FordPass app. Besides it, you will also get a wireless charging pad suitable for all the best phones.
The Co-Pilot 360 2.0 suite is also available as an advanced driver assistance safety system. The safety system includes adaptive cruise control, blind-spot monitoring and rear cross-traffic braking, active lane-keeping assistance, and front collision mitigation. Well, it has become the most recent and standard suite of safety systems for cars. Undoubtedly, it is helpful without being intrusive.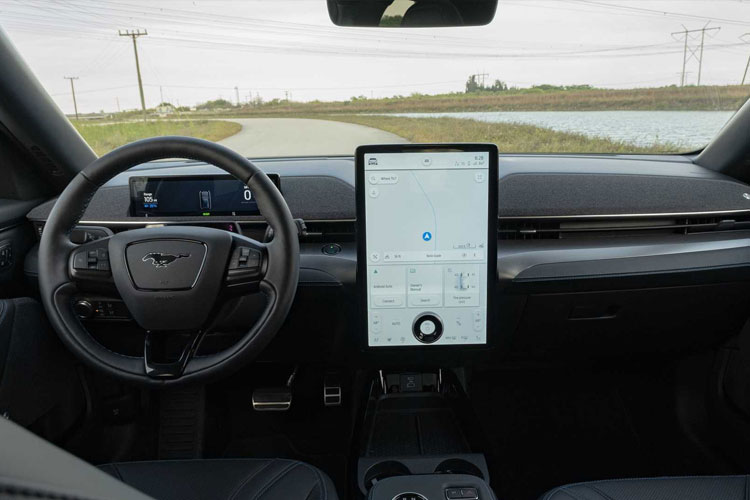 Mustang Mach-E Features
The Mustang Mach-E has a beautiful design and offers brilliant features. But you may not find it an affordable electric vehicle that gives you incredible mileage, but it provides you all that one could expect to have in a luxury EV class.
So, here you can have a look at all the incredible features of Mustang Mach-E:
The Mustang Mach-E offers a highly comfortable ride. The highlights include a suspension that can ideally soak all the bumps. The cabin of this car is just perfectly insulated and provides you protection against wind and noise. Moreover, Mustang Mach-E also an easy-to-use control system that is climate-friendly.
You will witness that the steering wheel heaters get hot so quickly, and you may have to look for seat ventilators in hot weather.
The seat of this ideal vehicle is just appreciable comfortable to use and comes along with padding, which is very soft and breathable. But most of the riders feel a lack of different adjustment keys, including lower thigh cushion extenders for the longer-legged drivers over there. In addition, there is minimal lateral support for holding the rider in place. Above all, seats with more adjustments are not available in Mustang Mach-E.
Engine, Transmission, and Performance
You can get Mustang Mach-E with a standard range of 75.7 kWh battery or an extended-range 98.8 kWh pack. An electric motor is present at the rear or both axles.
Well, through the latter combination, you can enjoy all-wheel drive. Moreover, the motors can combine to provide 480 horsepower along with 634 pound-feet of torque.
Mustang Mach-E offers you 60 mph within just 3.5 seconds. The car rides over the wheels, which range in size from 18 to 20 inches. Mustang Mach-E also comes along with adjustable ride firmness.
Mustang Mach-E always offers you a quick and better ride, as compared to the most expected crossovers. At the same time, you would not find it as engaging as all other traditional Mustangs are. Mustang Mach-E offers you an impressive performance with a super-smooth ride.
Mustang Mach-E offers the following safety features to all of its users:
Blind-Spot Information System or BLIS alerts the driver as soon a vehicle begins to lurk just behind the blind spot just as you are reversing out of the parking.
Pre-Collision Assistance let the driver know about the front collision. Moreover, the system also applies the brakes automatically to keep you safe from unexpected accidents.
Lane-Keeping System helps keep the vehicles in the center strictly at the marked lane by adjusting the steering.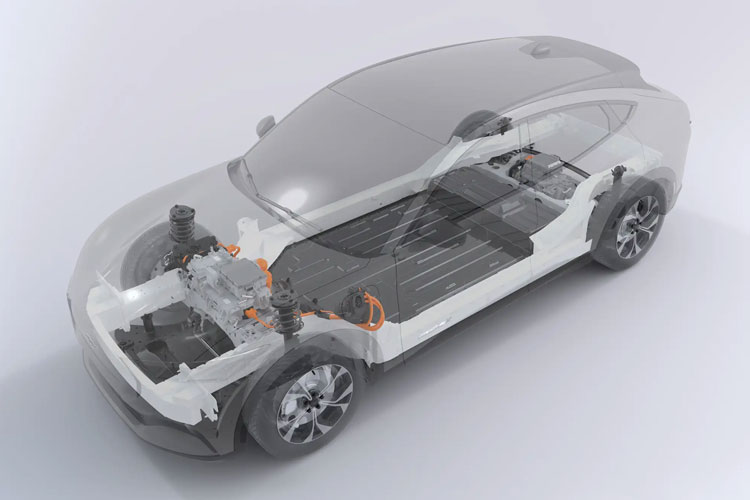 Battery And Range
Through an extended test drive during warm and frost weather, it has been proved that temperature profoundly affects the battery's performance. For instance, starting from 270 miles with 88 kWh, the battery range was extended to 207 miles. And surprisingly at the other day, with a fully charged battery, the car surprised us with a range of 211 miles.
The difference in range is because of the weather conditions and driving behavior as well.
It is a matter that a cold environment or low temperature can reduce the mileage of the EVs. The software monitors the driving habits of the riders and then gives an estimation of the expected miles to the rider. So in case if you are an aggressive rider who always tries to hit the accelerator, you may get a reduced driving range.
The car always offers you an accurate estimation. You can also go to the car's settings and can delete the driving history.
For charging, you will get a cable to plug into any household 120-volt outlet. The car takes more than six hours, and its charging can exceed up from 44% to 100% charge. Remember that after getting 80% charged, the battery will take a long time to change completely.
Well, fast chargers are also available, and you can also get benefits from them. But keep in mind, just like the mileage, the time required for charging is also affected by the temperature.
Test Drive
A journey with Mustang Mach-E through different roads ranging from urban streets to the interstate highways even through the twisty country roads and rough, muddy back roads, the car has offered a priceless ride. Undoubtedly, Mustang Mach-E has been moved through all of these paths with dignity, which you may not be expecting for this Mustang.
Most people doubted its survival as Mustang Mach-E was passing through rural roads, but with 5.7 inches of clearance, Mustang Mach-E has proved its self to be a worth considering option. The car can handle the Northern winters without any issue.
Through the windy mountains roads, Mustang Mach-E has performed very well. This vehicle's tires come along with countless electronic control systems that can give a spectacular performance without making noise.
As you would push the accelerator, Mustang Mach-E can easily take you back in the seat. The car offers you a very luxurious cabin inside, which is very easy to sail over the speed limit.
Most of the riders find the steering very light while driving at slow speed or during parking. Just like other family members, Mustang Mach-E also offers you one-pedal driving. Through a regenerative braking system, you can quickly slow down the car and can completely stop the vehicle by just lifting your foot from the accelerator.
Final Thoughts
Ford Mustang Mach-E offers a comfortable and safe ride. The solidly built electric vehicle always lets the riders enjoy their luxurious ride without making noise. Though the car does not run fast over the highway, and the company has introduced much competent driving assistance.
Everything about this electric vehicle is good, but I wish Ford Mustang Mach-E could cover more miles!