2021 Genesis GV80 is a unique and very first crossover SUV you are getting from Hyundai's luxury brand.
2021 Genesis GV80 is a five-seated mid-sized SUV that gives an option for the third row as well. The vehicle comes with all the features and offers you a very comfortable ride. 2021 Genesis GV80 is just rated to compete with BMW X5 and other competitors, including Mercedes-Benz GLE, and Jaguar F-Pace, and Audi Q8.
The gorgeous design, along with a wealth of comfort and many worth considering features, makes the 2021 Genesis GV80 the best luxury SUV. The choice of two turbo-engines and great seats make it an undeniable option.
Fledgling luxury carmaker Genesis always tries to provide the most luxury cars challenging for Japanese and European luxury brands. The same is with the 2021 Genesis GV80 so, if you are more interested in learning about this, the luxurious car stays here and completes your reading!
2021 Genesis GV80 Review
Here, learn about the likes and dislikes of this luxurious car.
Likes
Spacious rear seats
A very handsome exterior
Supremely quiet ride
Sumptuous interior
Dislike
Touchscreen distance from driver's seat
A very insecure active lane control
Console dial confusion
Infotainment dial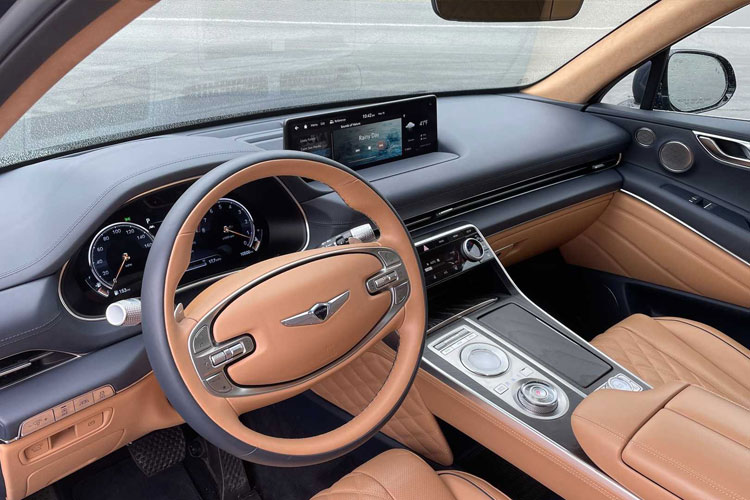 Genesis GV80 Interior
Undoubtedly, the exterior of Genesis GV80 is unique and is pretty cool. The stylish headlights and how the fastback-style roofline carries itself back to the car creates a different look as the car is constantly moving.
Genesis GV80 Features
It may surprise you that the inferior Genesis GV80 is a little more impressive and remarkable than the exterior. A lovely design along with a smooth-riding experience regardless of trim is just excellent. The two-spoke steering might not be a suitable option for a 9-and-3 positioning hand. But the current layout at this price is just excellent and worth considering choice.
Concerning stylish, you may find it the best SUV, and the credit goes to its looks. The vehicle has been designed so carefully, and makers had paid attention to each minor detail to get an ideal car. Therefore, it is expected to cross for a six-figure luxury SUV. And for its stylish looks, Genesis GV80 has earned 10 points.
The quad headlights of this car are bisected through daytime running lights that wrap around the side and stitch together the beltline to the rear taillights.
The climate controls appear just like other regular temperature dials, along with hard buttons for the defoggers. The central panel o this vehicle is straightforward to operate.
Genesis GV80 has a very slim 14.5-inch touchscreen stretched across the middle of the dashboard. The touch-sensitive screen offers an opportunity to the front passengers to change the radio station and manipulate the navigation system. The driver may face difficulty while reaching the touchscreen.
Fortunately, a controller is mounted at the center console so the driver can interact with the system and work just amazingly.
Comfort is the most important and worth considering feature of any luxury vehicle. So in this regard, Genesis GV80 is far better as compared to many other options. The car has been equipped with all electronically controlled suspension systems that use the forward-facing camera to read the road surface. You can make all the suspension adjustments very easily and quickly on the fly.
The tri-zone climate control is also worth considering features, as it is effortless to use and is quite effective. Moreover, the ventilated and heated seats are up to the mark. In addition, the seats are equally comfortable.
Genesis GV80 has a wholly insulated cabin which shows resistance against vibrations and sounds.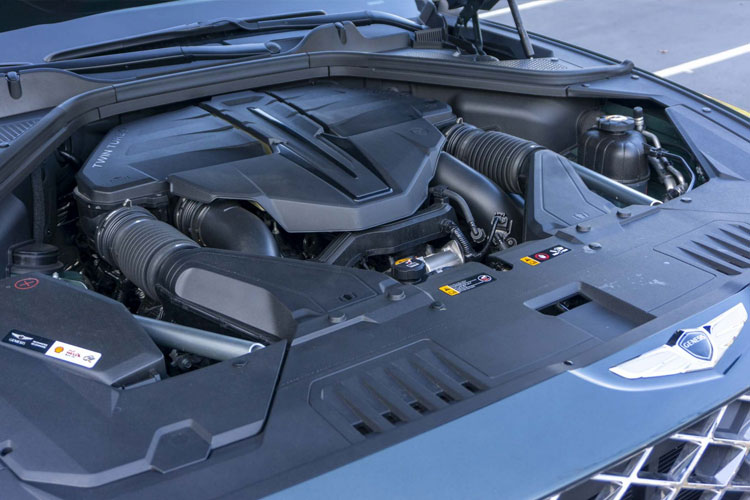 Engine, Transmission, And Performance
It is a small-sized luxury crossover that shares the same all-new underpinnings as the next coming G80 sedan, and the vehicle is available along with rear or all-over wheel drive.
Engine starts with 300-hp turbocharged 2.5 liters four cylinders to 375-hp twin-turbo 3.5 litters V-6. Genesis GV80, along with turbo-four, offers you a significantly slower 6.1 seconds zero to 60 mpg time. Therefore, most of the drivers will never miss the extra power. But remember that Genesis has not released any information regarding the power of this car.
Well, if you have ridden both versions of Genesis GV80, you must say that the new SUV offers a very smooth and quiet ride. But most of the buyers look crazy just for the thrilling features.
Genesis GV80 Features four-cylinder engines that can deliver 21 mpg while you are driving in the city, and this range will extend up to 25 mpg when you move on the highway. Besides it, when you will go with V-6, this range will reduce up to 18 mpg and 23 mpg.
Safety And Driving Assistance
Genesis GV80 offers many safety features, which make it a favorite of many riders. For instance:
Blind-Spot Collision-Avoidance Assist: the assistance applies corrective steering, which is a great help for the drivers and helps them avoid collision with vehicles in the blind spot while changing the lanes.
Lane-Change Oncoming: with this feature, you would face a low or decreased number of collisions with the oncoming vehicles, especially on the undivided highways, even if you drift over the road.
Rear Occupant alert: with a rear occupant alert, you can detect the occupant in the back seat and alert the driver to know about the vehicle before exiting the car.
Warranty And Maintenance Coverage
Genesis GV80 comes along with some of the best and worth considering warranty packages along with extensive powertrain coverage. The car offers a complimentary type of maintenance. But may not found these types of policies for most of the other vehicles.
Genesis GV80 offers you a limited warranty of about five years or 60.000 miles.
Complimentary maintenance which would cover three years or 36,000 mile
Powertrain which can cover ten year or 10.000 miles
How Is The Tech?
The vehicle offers multiple advanced driver aids, and all of them are standardized and functions just significantly—the intelligent cruise control of Genesis GV80. Along with highway driving, assistance offers you a great system compared to all the other options available. Here, you can also enjoy a few hands-free operations.
Genesis GV80 has a 21-speaker premium audio system, which offers an impressive performance regarding the quality of the sound that the system delivers. You may not find the navigation system and forging street names as unique as others can note for BMW or other vehicles.
Genesis GV80 features the Android Auto phone integration and CarPlay, but it is not wireless at present, so you may not find it that much impressive.
Is the GV80 a good value?
You may miss some of those high-end heft in some switchgear and trims. Undoubtedly, the vehicle offers you thousands of luxury features as compare to many other competitors. The quality and looks of Genesis GV80 are just excellent and highly appreciable.
Final Thoughts
Genesis GV80 is the first SUV from the Genesis House, which comes along with several jaw-dropping features. The mid-sized Genesis GV80 offers you bucket loads of amenities along with a striking design at this price.
Genesis GV80 has some imperfections as well. So, one must attend to all those areas and make some improvements. Above all, as per our experience, Genesis GV80 is an imposing SUV!