BMW launched the very first SUV more than 20 years ago. BMW has always been in talks due to its extraordinary performance. BMW X5 is currently the best mid-size SUV car in the market. It is a super comfortable car, and its suspension system is designed to soak bumps in the road.
Now its fourth generation has been launched, and it is providing a luxurious experience to its users. BMW Company has always provided the best quality with impressive acceleration, several technology features, and a comfortable interior in the previous BMW. So you can experience the ultimate driving with this beast of technology.
However, not just the technology but the design of the BMW X5 has always been on top. 2022 BMW X5 has a very modern and stylish design that looks mesmerizing and attractive. Below, you can check all the amazing features available in this car.
New Upgrades in 2022:
The new 2022 BMW X5 has launched with some great upgrades in its design and performance.
New Black Vermilion
Upgraded Bluetooth for 40i and 45e models
For 40i, the convenience package has been removed
Merino Black leather upholstery with red piping
A glass shift knob
A faux-suede headliner
Leather-covered dashboard
Harman-stereo system
Wireless phone charging
Which One is Better in the Price?
BMW X5 has offered a lot of good technology in its new model. As the technology is upgraded so no doubt, that there will be some increase in the price. But it will be worth the money. Its Black Vermillion Edition and M50i are very expensive and ranges between $80,000 to $90,000.
However, sDrive40i and xDrive45e are moderate in price and available between $60,000 to $65,000 but do not provide many features compared to other versions.
The xDrive40i is a better option as it has sports-sedan acceleration and is a less expensive BMW. Its price is $62,695, and you can also add the premium package for more upgrades and good features. It goes from zero speed to 60-mph in just 4.8 seconds, making it a really fast car than previous models.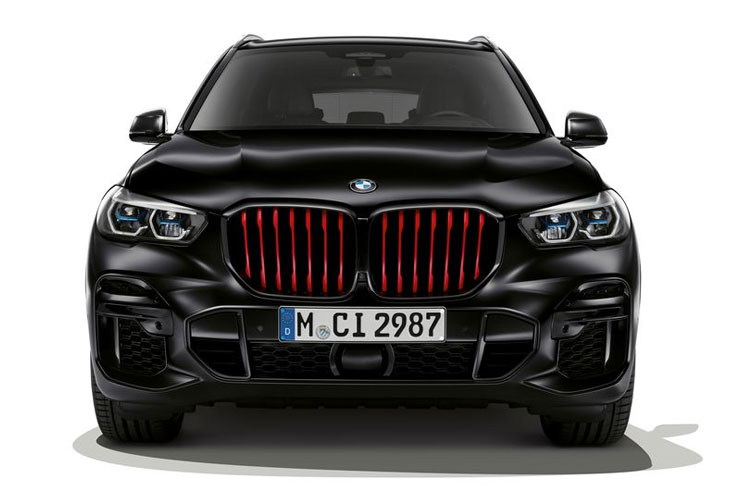 Performance of 2022 BMW X5:
BMW X5 is made to deal with the toughest challenges. It has standard Dynamic Damper Control with multiple suspension types that make it perform better than other cars. In addition, they have installed an eight-speed automatic transmission in all versions of the BMW X5.
sDrive40i and xDrive40i both have a 3.0L Turbocharged inline-6 gas engine with a 48-volt mild-hybrid electrical system. This engine is fuel-efficient and can run for hours and hours. xDrive40i can cover zero to 60mph in just five seconds with a torque production of 330lb-ft and an outcome of 335hp.
However, the M50i has a powerful 4.4-liter twin-turbo V8 engine with 523hp and 553lb-ft of torque. Next is the X5 M, which is more powerful and has 4.4-litre twin-turbo V-8 and can deliver 600hp. When it is equipped with the Competition package, it can deliver 617hp. In both ways, it can give 553lb-ft of torque which is better than all the previous versions.
Finally, the plug-in hybrid xDrive45e has a 3.0litre turbocharged inline-six engine and an electric motor that supports 389hp. The torque produced by this model is 443lb-ft.
All these versions have a great performance according to their engine. Therefore, you can have a more stable and comfortable driving. However, the X5 M has the most powerful engine and is the best option among them.
How Long Does the Battery Can Run?
BMW has come up with an upgrade in the battery life of the car. They claim that xDrive45e has a 24.0-kWh battery, easily running up to 30 miles without switching to gas. However, if you feel like you are running out of battery, you can charge it at home or any public place.
How much Fuel does the 2022 BMW X5 Consume?
The previous models of BMW were very famous for being fuel-efficient. Now 2022 BMW X5 is also following the same steps. For RWD models, the fuel economy is 21mpg on the city roads, while on highways, it is 26mpg. However, the AWD model has the same 21mpg on city roads while 25mpg on the highways.
Now talking about the M50i, it has a fuel economy of 16mpg in the city and 22mpg on the highways. Lastly, the X5 M doesn't show some impressive results, and its fuel economy is only 18mpg on the highways and 13mpg on the city's roads. Overall, the 2022 BMW X5 shows good fuel economy than its competitors.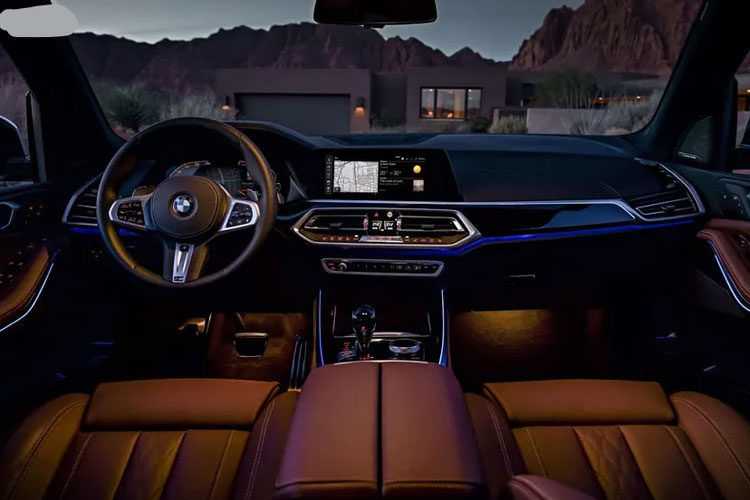 Beautiful and Stylish Interior:
BMW X5 has a very beautiful and modern-looking interior. It has a large seating capacity of 5 people. The front seats are covered with SensaTec upholstery which is very comfortable. You can adjust the seats according to your comfort.
Its steering wheel is multifunctional, and behind it, there is a 12.3-inch digital driver display. This digital display has the latest iteration of the iDrive 7.0. In the center of the front seats, there is a gear level, infotainment system controller, and armrest with some storage.
Now, if you look at the back seats, there is a huge room for legs which is 37.4 inches, which means even 6.4 feet tall can easily sit there.
At the back of these two seating rows, there is a 33.9 cu-ft of cargo area where you can store many households.
Some highlighted interior features are
Power adjustable front seats
Multifunctional steering
Automatic climate control ventilation
3inch touch screen
Seats and steering has SensaTec upholstery
Connectivity Options:
You can get all the latest and innovative connectivity options in the 2022 BMW X5. These connectivity options include Apple Car Play, Bluetooth, Android Auto, and USB. It also has 4G LTE Wifi technology, which allows you to play music and watch shows.
To experience a better quality of goods, the X5 M50i has the Harmon Kardon sound system. It also has two 12.3inch touchscreens, one for digital gauge display and the second for the infotainment system, which has the latest iDrive software. One more amazing thing is you can control it with your hand gesture without touching the screen.
Safety Measures in 2022 BMW X5:
BMW has ensured all the safety measures to provide a better and secure driving experience. As a result, NHTSA has given a 4-star rating, while IIHS has given an overall 'Acceptable' rating. It also has dual-stage SRS airbags for any emergency activity. Some notable security features are as follows:
Anti-lock braking system
Dynamic cruise control
Dual-stage SRS airbags
Active protection system
Dynamic brake control
Dynamic traction control
Rear-view camera
Anti-theft alarm system
Tire pressure monitor
Hill descent control
Active blind spot detection
Rollover and impact sensor
Lane departure warning
Frontal collision warning
BMW assist eCall
Warranty:
Talking about the warranty of BMW X5, it offers
A basic warranty for 48 months or 50,000 miles
Corrosion perforation warranty for 144 months or unlimited distance
Hybrid or electric system compone warranty for 96 months or 80,000 miles
Maintenance warranty for 36 months or 36,000 miles
Powertrain warranty for 48 months or 50,000 miles
Roadside assistance coverage for 48 months or unlimited distance.
Conclusion:
Above, we have given all the important features and specifications of the 2022 BMW X5. It is currently the best midrange car that is offering this much technology at this price. Of course, some people find it a bit expensive, but it is a one-time investment that you will surely enjoy in the future.