Latest Dubai International Motor Show showcases quite a few models that are due to reach the showrooms shortly. Follow our coverage of the event. With inputs from Manoj Nair, Associate Editor, Naushad K. Cherrayil, Staff Reporter and Sony Thomas, wheels Editor.
Size matters even more with new Infiniti QX80:
The first major reveal of the new QX80 happened in Dubai, with Infiniti trotting out its contender in the heavyweight SUV category. The model puts up 400 hp through its 5.6 litre V8. Clearly not one to give way.
. @HHShkMohd tours #Dubai International Motor Show 2017 pic.twitter.com/0FcTKA2VKk

— Dubai Media Office (@DXBMediaOffice) November 14, 2017
Time to turn a new Leaf:
Electric is buzzing through the halls of the Dubai International Motor Show… and Nissan's Leaf is plugging in. Billed as the "world's best-selling electric car", with nearly 300,000 on the road, the second generation comes with a longer range and a more flowing design. Among the additional features are an "e-Pedal" technology that allows drivers to start, accelerate, decelerate and stop, by increasing or decreasing the pressure applied to the accelerator, bringing the car to a complete stop. The car holds its position, even on steep slopes, until the accelerator is applied again.
Nissan unveils zero emission Leaf at Dubai Motor Show. #DubaiMotorShow @Nissan pic.twitter.com/zgsUMvlFBH

— Gulf News Business (@GulfNewsBiz) November 14, 2017
The Phantom unveiled: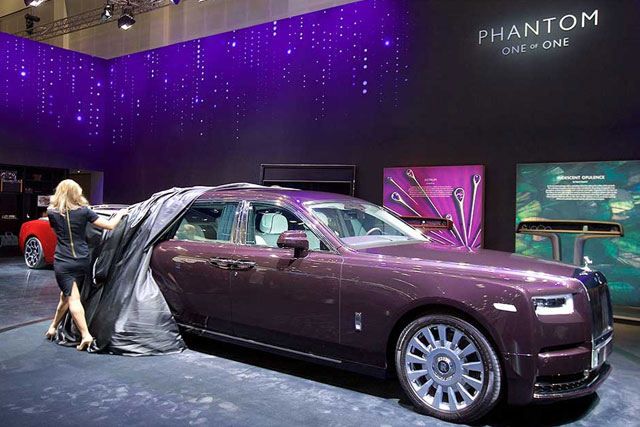 Lego made Porsche GT car at Dubai Motor Show. #DubaiMotorShow @LEGO_Group @Porsche pic.twitter.com/aFkHVYG9LH

— Gulf News Business (@GulfNewsBiz) November 14, 2017
A pure handmade titanium car from Vulcano pic.twitter.com/1qCV673ZSX

— Gulf News Business (@GulfNewsBiz) November 14, 2017
Collectioj of Bikers Cafe at Dubai Motor Show. #DubaiMotorShow pic.twitter.com/8aOz3H14yv

— Gulf News Business (@GulfNewsBiz) November 14, 2017
Cross section of Toyota Prius at Dubai Motor Show. #DubaiMotorShow @ToyotaMotorCorp pic.twitter.com/vdHOOov5ZC

— Gulf News Business (@GulfNewsBiz) November 14, 2017
Nissan's GTR and Nismo GTR at Dubai Motor Show. #DubaiMotorShow @Nissan pic.twitter.com/QdC7oXVh9j

— Gulf News Business (@GulfNewsBiz) November 14, 2017
Nissan's zero emission Blade Glider at Dubai Motor Show. #DubaiMotorShow @Nissan pic.twitter.com/HJSrMCbDnr

— Gulf News Business (@GulfNewsBiz) November 14, 2017
Kia takes on premium brands with Stinger:
Mini Cooper Countryman:
Mini's Countryman only for Dh235000 plus tent cost. #DubaiMotorShow @MINI pic.twitter.com/4UtnC1HeHf

— Gulf News Business (@GulfNewsBiz) November 14, 2017
Mini's concept car on display at Dubai Motor Show. #DubaiMotorShow @MINI pic.twitter.com/EwuOTn3LZB

— Gulf News Business (@GulfNewsBiz) November 14, 2017
Check out @Shaali_UAE N360! The first ever UAE-made track car, also called the 'Dubai Roadster' launched globally at #DubaiMotorShow #DriveYourSenses pic.twitter.com/ugBXx650pD

— DubaiMotorShow (@DubaiMotorShow) November 14, 2017
Shaikh Ahmed takes a closer look at the cars on display:
Shaikh Ahmed at Dubai Motor Show.#DubaiMotorShow pic.twitter.com/U8MKIoJBlv

— Gulf News Business (@GulfNewsBiz) November 14, 2017
Black and gold McLaren 720 S MSO special unveiled:
Audi reveals its new A8 flagship:
Benz collection:
Oldies from Mercedes Benz on display at Dubai Motor Show. #DubaiMotorShow @MercedesBenz pic.twitter.com/x0Manx4Wqm

— Gulf News Business (@GulfNewsBiz) November 14, 2017
All decked up in titanium:
Porsche 919 hybrid:
Porsche 919 hybrid on display at Dubai Motor Show. pic.twitter.com/seVUf47nWs

— Gulf News Business (@GulfNewsBiz) November 14, 2017
WMotors Lykan:
W Motors Lykan at Dubai Motor Show pic.twitter.com/GRDXJNPCiH

— Gulf News Business (@GulfNewsBiz) November 14, 2017
Aston Martin DB11:
Aston Martin's DB 11 on display at Dubai Motor Show. pic.twitter.com/ftAcaaNL7x

— Gulf News Business (@GulfNewsBiz) November 14, 2017
Aston Martin's Valkyrie:
Aston Martin's Valkyrie model at Dubai Motor Show pic.twitter.com/sV6mU4QG60

— Gulf News Business (@GulfNewsBiz) November 14, 2017
Watch: Devel sixteen 2017
Devel's 2017 sixteen model at Dubai Motor Show pic.twitter.com/HclSHB0GOw

— Gulf News Business (@GulfNewsBiz) November 14, 2017
Lamborghini launches its new powerhouse:
Lamborghini's latest car on display at Dubai Motor Show pic.twitter.com/yX5FJmdklY

— Gulf News Business (@GulfNewsBiz) November 14, 2017
Lamborghini launches its new powerhouse at Dubai Motor Show pic.twitter.com/JQy9yO9bJk

— Gulf News Business (@GulfNewsBiz) November 14, 2017
Volkswagen launches Arteon:
Volkswagen launches Arteon at Dubai Motor Show pic.twitter.com/AjJUjDSP7I

— Gulf News Business (@GulfNewsBiz) November 14, 2017
The new Audi A8:
Innovation has never looked this good. Come see the all-new Audi A8 at the #DubaiMotorShow between 14 – 18 November: https://t.co/4X15ssasf8 pic.twitter.com/I9PA6lpluR

— Audi Middle East (@AudiMiddleEast) November 12, 2017
Here's a quick sneak peek into what's to come at the @DubaiMotorShow Are you ready? https://t.co/oY6832KrHO #WakuDoki pic.twitter.com/qUkcdegk1g

— ToyotaUAE (@Toyota_UAE) November 13, 2017