With the increase in popularity of midsize sedans, Honda Accord and Honda Nissan have piqued people's interests. Both of these cars belong to Japanese manufacturing companies with a long history in the automobile industry.
Size and Dimensions
Honda Accord's length is 194.21 inches, width is 72.8 inches and height is 57.64 inches. On the other hand, Nissan Altima's length is 191.3 inches, width is 72.0 inches and height is 57.9 inches. Both the cars have similar measurements with the Honda Accord being slightly bigger than Nissan Altima. Therefore, this round is considered a draw as the difference is not remarkable.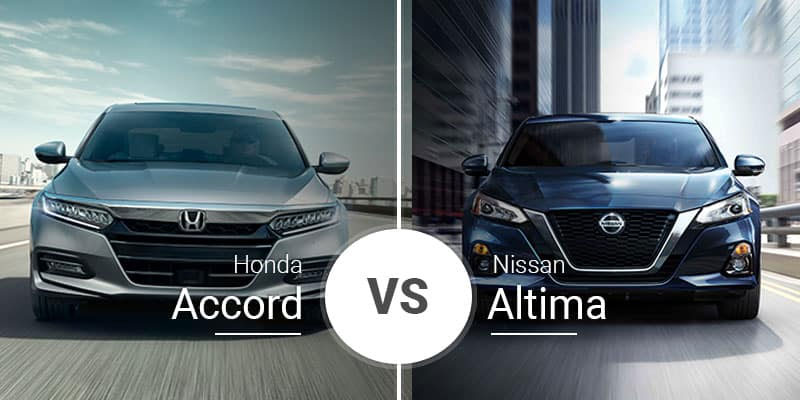 Interiors
An important aspect to compare is the interior size of the vehicle. While we know that Honda Accord is slightly bigger than the Nissan Altima, that does not mean that it might offer more comfortable seating than the other.
Honda Accord's front seats are pretty low, which means getting in and getting out of the car is usually more difficult. Nissan Altima, on the other hand, offers Zero Gravity front seats, which are more comfortable, especially for long rides. However, it should be noted that Honda Accord offers more legroom for the back passengers, 40.4 inches, which is roughly 5 more inches than that offered by Nissan Altima.
Furthermore, the overall interiors of the Honda Accord feel more luxurious than Nissan Altima, with more colour variety including Radiant Red Metallic, Crystal Black Pearl, Lunar Silver Metallic just to name a few.
So, in this category, the Honda Accord wins the round by offering more space for passengers and by having a sleeker and higher quality feel interior.
Techs
In today's world where everything is interconnected and having a decent tech system in the car is a need rather than a want, Honda Accord and Nissan Altima offer some solid features. Both the cars have a touch screen infotainment system that is easy to navigate.
The base model of the Nissan Altima includes:
An eight-inch touch screen
Six speakers spread throughout the car
Satellite radio
Android Auto and Apple Car Play
Four USB ports
While the basic model of the Honda Accord includes:
A seven-inch touch screen
One USB port
Four speakers
In this round, Nissan Altima is a clear winner, providing more features on a basic model than the Honda Accord.
Safety Features
An important category for any vehicle. With an increase in traffic deaths and accidents, most manufacturers take an active interest in making their vehicles as safe as possible and prepared for any tragedies that might befall while driving their vehicles. Honda Accord and Nissan Altima both have gone through vigorous safety tests by various government bodies in different countries and have passed with above than satisfactory results.
Nissan Altima has a specific feature known as Pro Pilot, which is similar to semi-autonomous driving which is unique to Nissan. It combines accelerating, braking and steering during long drives. Honda Accord includes an adaptative cruise control that maintains the distance between the car and the vehicle in front by increasing or reducing speed, along with traffic sign recognition. Both the cars also include an automatic braking system, rearview camera, and forward-collision warning.
Both cars are known for their advanced safety features and include the basics such as multiple airbags, including the ones at the side. Therefore, this round is considered a draw.
Final Result
Again, both cars are astounding. They are inclusive of various features such as advanced technology, roomy interiors, and economical prices. However, based on our criteria, the Honda Accord wins as it has a better quality of interiors with various color combinations and more legroom for passengers. However, both of the cars have similar exterior dimensions and great and advanced safety features that would hopefully keep you and your passengers safe in case of an accident.
For more detailed information on the features, check out the Honda Accord Bahrain Official Website.