2050 Ford F 150 Renderings
The Ford F-150 is an icon. It remains America's best-selling vehicle for 2017, marking an impressive 41 years at the top of the charts, including a momentous 896,000 examples of the pickup moved last year alone. With that in mind, what would it take to reimagine such an iconic vehicle? A few students at Detroit's College for Creative Studies were tasked with doing just that.
Students set off in September to create what they believed would be the ideal F-150 of the future. Everything fromoutrageous off-roaders, to single-seat city movers were included in the study, but these 11 examples in particular stood out as the most imaginative of the bunch. Each of the concepts propose what could theoretically become of the Ford F-150 in the next century.
At the end of the competition, Ford selected three of the best renderings for a prize. Students Song "Daniel" Yixuan, Josh Blundo, and Seung Woo "Chris" Song each walked away with a $3,000 scholarship, and accolades that could potentially get them hired with the Blue Oval in the future.
2050 Ford F-150 Maelstrom: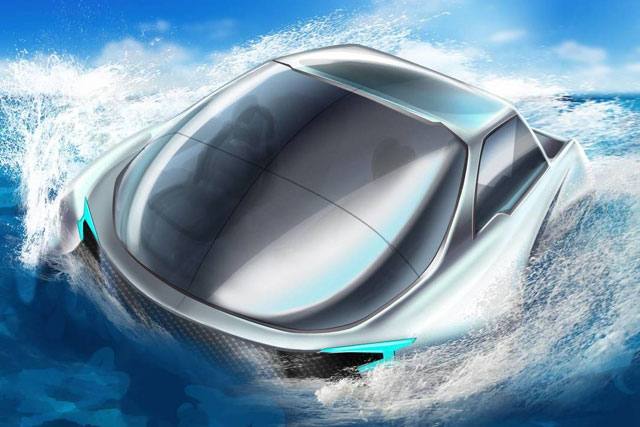 Austin Anton's proposed F-150 of the future takes the term utility to an entirely new level. Complete with a carbon fiber hull, one electric motor at each wheel, and two graphene batteries, the Maelstrom concept has the ability the conquer both land and sea. In a future where overpopulation has forced many societies to the ocean, says Anton, the F-150 Maelstrom becomes the ultimate go-anywhere, do-anything utility vehicle.
2050 Ford E50: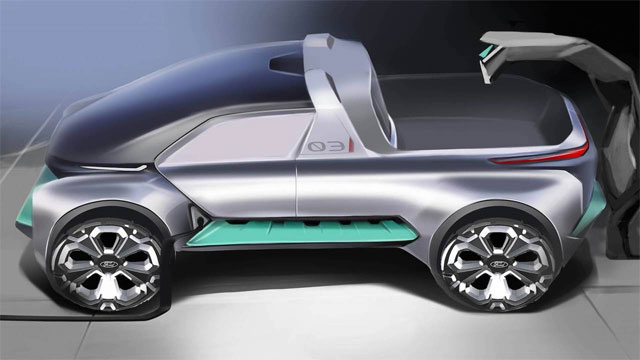 With a focus on sustainability, the Ford E50 concept, designed by student artist Jisi Qui, imagines a pickup designed almost exclusively for the collection and cleanup of e-waste. "In 2050, because of advances in technology and the growth of the American population, the popularity of electronic products has led to the growth of e-waste," said Qui. "And the e-waste also harms human's body."
The concept has a bed designed for picking up large containers of e-waste, a roof-mounted laser for scanning the road, a bumper-mounted tool for inspecting the e-waste, and even the ability to transform that waste into energy for its electric powertrain.
2050 Ford AL-V Ranger: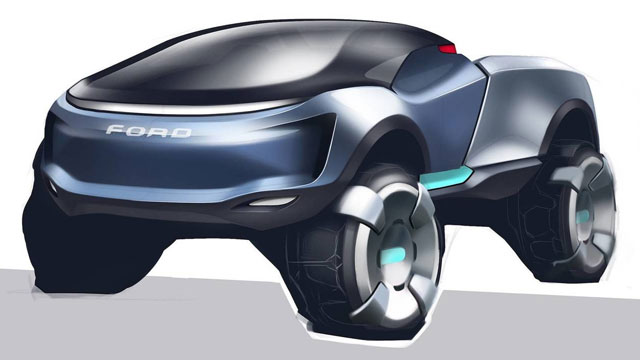 For those future residents looking for a pickup that can be at home both in the city and out on the trail, designer Jeffrey Du has imagined the AL-V Ranger concept. Said to be "adventurous," "alluring," and "durable," the AL-V Ranger concept is much smaller than the standard F-150, but features nearly all of the same capabilities – and then some. WiFi connectivity, autonomous driving, and even minor transformability are all featured.
2050 Ford Autonomous Pickup: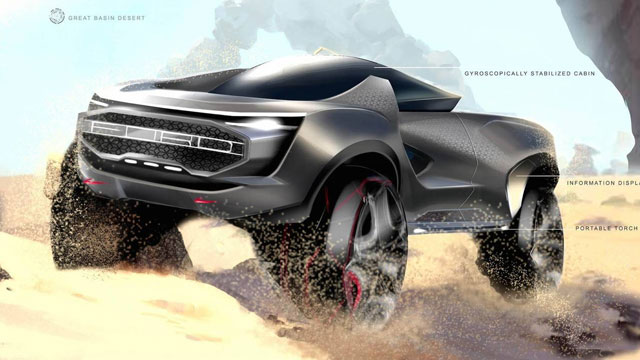 Design student Ad Zhou has taken the F-150 and flipped it on its head, almost quite literally. The dramatic forward-cab design, the Raptor-inspired grille, and its sleek, silver body give us a dramatic, futuristic look at what could be. And as the name suggests, the concept would be fully autonomous, with focuses on intelligent, urban driving.
"Room to roam will still remain a priority. People will still want big cars," says Zhou. "It starts with the idea that we've got to democratize our transportation system. Our roads are crowded, people's travel times are getting longer."
2050 Ford F-50: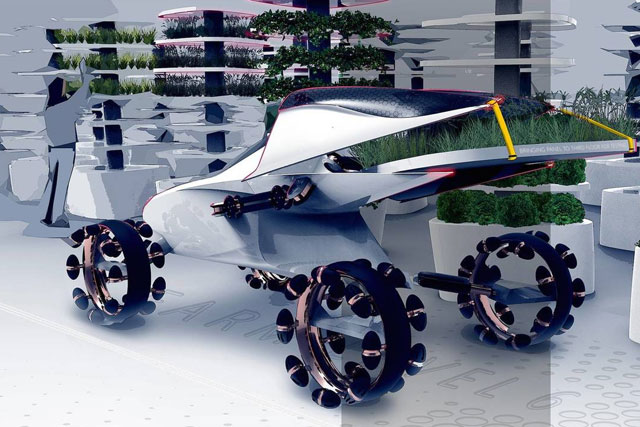 Arguably the most dramatic vision of the F-150 yet, artist Joshua Blundo has transformed the iconic pickup from a capable vehicle off the road, to a single-seat city dweller with a focus on sustainability.
Imagining a future where gas-powered cars are banned almost entirely, and vehicles with wheelbases of more than 100 inches are also banned in cities, the F-150 becomes the ultimate city dweller. Features like body-mounted cameras, wheel-mounted electric motors, and a centrally mounted cockpit, make the F-50 concept unlike any pickup you've ever seen.
Blundo's F-50 was one of the three concepts selected for a $3,000 scholarship.
2050 Ford Super Duty: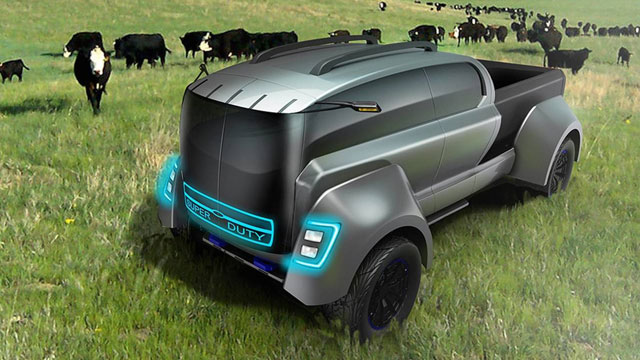 While most futuristic vehicles focus on autonomy and city driving, Benjamin Koopman's proposed F-Series opts for a more rural focus. "As cities continue to expand and get closer to rural farmlands, there becomes a need for closer watched property lines, and high-tech GPS connected fences," says Koompan. That's where the 2050 Super Duty comes in.
Equipped with a hydrogen fuel-cell powertrain, and an electric motor at each wheel, the Super Duty concept maintains its robust capabilities, while adding a number of new technologies in the process. A dramatic forward cab with front egress and ingress capabilities pairs with a bed capable of hauling large materials.
2050 Ford F-150 Maximus: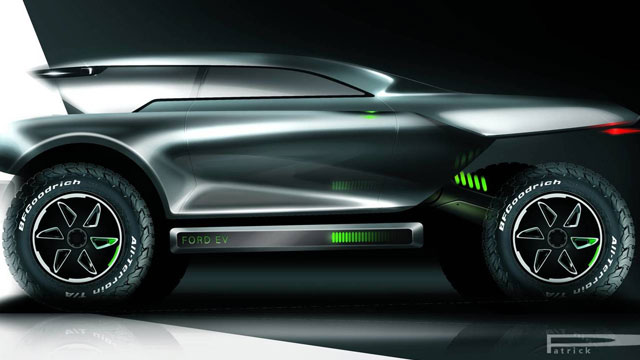 Like most of the other trucks on this list, the Ford F-150 Maximus concept is an EV with a newfound focus on urban mobility. Of course, it maintains nearly all of the same usability found on the current pickup, but comes with new features like a futuristic bed, storage compartments throughout, off-road capabilities, and an autonomous driving mode.
2050 Ford F-ic50 "Intelligent Companion"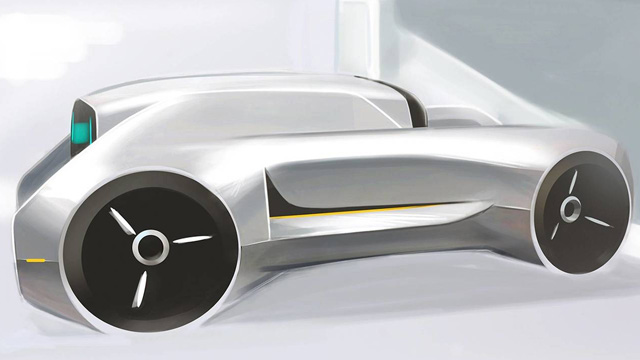 With a fully electric powertrain, Ji Kim's vision of a futuristic F-150 is as eco-friendly as it is capable. Aimed at an older buyer base with a focus on utility, the F-ic50 "Intelligent Companion" introduces features like a front windshield opening for ingress and egress, unique cargo storage under the bumper, and a bed capable of holding supplies completely in place, unlike most current truck beds.
2050 Ford F-150 Riftrunner: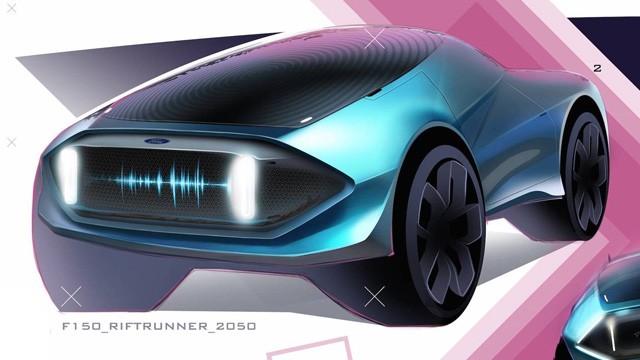 Tossing capability to the wind, design student Hongwei Jiang has created an F-150 concept that looks like something out of the latest Bladerunner film. The Riftrunner concept is much smaller and much sleeker than the current F-150, and was designed for use in the city almost exclusively. It's what Jiang calls an "urban pickup truck."
"Inspired by the game console and robot helmet. In 2050, the Ford pickup truck is subdivided into more categories, including the urban pickup truck with large internal space."
2050 Ford Outreach: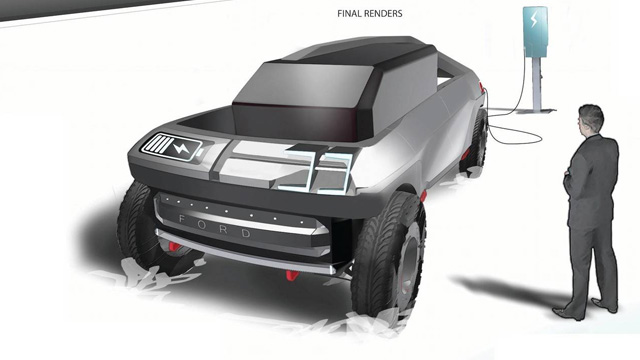 Future hipsters take note, the 2050 Ford Outreach was designed with you in mind. Artist Liam Harrington suggests that its key demographic would be someone who is a "robotic hydroponic greenhouse yeast and hop manufacturer" that is also an "avid mountain bike rider."
Whatever the case, the concept is incredibly unique. With slalom-style seating for two, a rugged yet futuristic exterior design, and a fully electric powertrain, the Outreach concept was built for any occasion.
Ford 2050: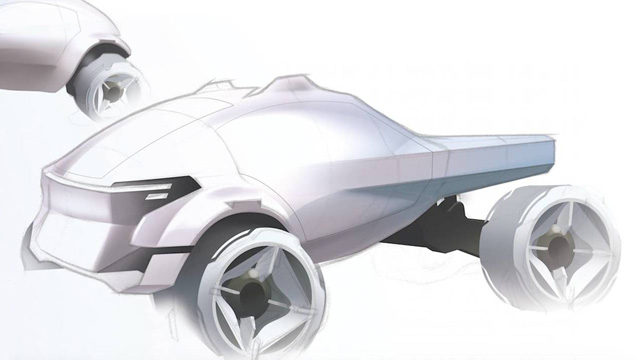 If design student Michael Stanfel's F-150 concept is any indication, the pickup truck of the future should be… strange, to say the last. The Ford 2050 concept is unique, and promises to be even more efficient, and even more capable then the current model, with a focus on urban farming and clean energy.
"As agricultural food production becomes urbanized, family-owned farm become abandoned or bought out by energy-producing corporations as farmers move into the city to produce," says Stanfel. "Rural land becomes occupied by clean energy production and fuel farming."